Fatima Adhiam
Postdoctoral Associate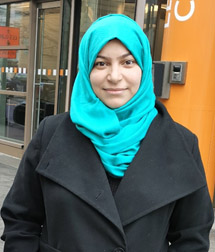 Fatima Adhiam was born in Saudi Arabia. She is working as a laboratory scientist in the Research and Development Center (R&DC) of Saudi Aramco. She led different research activities in oil and gas fields, which supported upstream and downstream operations. She was focusing on utilizing the advanced properties of the XRD and WDXRF instruments to be used in multi-function applications. She was also working on the synthesis and characterization of refractory materials using Saudi Aramco by-products.
In 2017, Dr. Adhiam obtained her Ph.D. degree in Chemistry Science from King Abdullah University of Science and Technology, KAUST. During her research, she worked on the Synthesis and Characterization of Quaternary Metal Chalcogenide Aerogels for Gas Separation and Volatile Hydrocarbon Adsorption.
Recently, Dr. Adhaim joined Massachusetts Institute of Technology (MIT) as a postdoc fellow. Her current research interests include the Synthesis and characterization of Zeolitic imidazolate frameworks (ZIFs) for gas separation.